Munsif Class (Tripartite)
The navy's clearly inadequate mineclearing capabilities were boosted with the purchase of three Eridan (Tripartite) class minehunters from the French Navy in September 1992, down from six originally planned. The first-of-class, dubbed PNS Munsif, is the ex-Sagittaire of the French Navy drawn directly from the French fleet, was delivered in October after refurbishing. The second ship, PNS Muhafiz, was built at DCN's composite workshops at Lorient with Pakistani technitions receiving training for building the third boatin Pakistan. It was delivered to Pakistan in April 1994 and commissioned in service in 1996. PNS Mujahid was assembled at the Karachi Dockyard under a technology transfer agreement.
The hull construction in glass-fibre reinforced composite material and the propulsion and manoeuvring capabilities of the Eridan class MCMVs will substantially upgrade the Pakistan Navy's mine warfare operations. Upgrade packages for the minehunters are expected to be offered to Pakistan by France which will allow the mine countermeasures system to combine a hull-mounted sonar with a towed array to extend the ship's field of action to 200 m depths and to cover larger areas at a comparatively higher speed (10 kts).
PNS Muhafiz and Mujahid differ from PNS Munsif in that it they are fitted with the new equipment includes detection and classification consoles for the DUBM-21D hull-mounted sonar (Thomson Sintra) used for minehunting operations down to 80 m, a new operation console for the TSM 2054 towed sidescan sonar which can store date collected from past missions, a guidance console of the PAP 104 Mk 5 (ECA) submarine mine disposal vehicle as well as tactical consoles enabling the ship to follow a track automatically or hover at a fixed point (when investigating an echo) and the TSM 2061 Mk 2 tactical system. All these systems were supplied by Thomson Sintra, now part of the wider Thomson Marconi Sonar grouping.
Stork-Wartsila Diesel of Netherlands supplied non-magnetic, anti-vibration and shock mountings for the Pakistan Navy's three Munsif class mine-hunters. For each vessel, Metalastik supplied 14 large sandwich mountings for under the machinery raft carrying the main engine and gearbox. To lessen vertical shock from an exploding mine, deceleration buffers are fitted between each pair of mountings. The Munsif class mine-hunters have a single Stork-Wartsila A-RUB 215 V12 diesel driving the main propeller and two auxilliary motors powering two bow thrusters.

Pakistan became the first non-NATO navy to make use of the Mine Countermeasures Vessel (MCMV) Operational Sea Training (MOST) scheme, run by the Belgian/Netherlands Mine Warfare School Eguermin at Ostend, Belgium. Pakistani participation consisted of the Tripartite class minehunter PNS Munsif (M 166), which took the two-week MOST course. During 1993 around 20 Pakistani officers and senior rates arrived at the mine-warfare school to follow the mine-warfare director, minehunting command team and sonar-operator courses under the terms of an initial training assistance agreement. PNS Muhafiz, Pakistan's second Munsif class minehunter completed a five-week training period at the NATO Eguermin mine-warfare school at Ostend, Belgium during 1994.
Muhafiz had originally been scheduled to spend 12 weeks at Eguermin, including a two-week Mine Countermeasures Operational Sea Training (MOST) period. However, delays at DCN Lorient meant this programme had to be cut by seven weeks. During the first week at MOST, Muhafiz's crew undertook theoretical courses to gain an understanding of mine-countermeasures operations and mission equipment. This was followed by a week of onboard training while alongside, and then a week of at-sea trials to familiarize the crew with basic operating procedures and operations (mine detection, classification and disposal). The final two weeks of Muhafiz's MOST consisted of additional at sea training and detailed operational debriefs. Mine-warfare simulator time was substituted when weather conditions prevented sea training. The Eguermin work-up was completed by a two-day MOST exercise during which crew members were subjected to a rigorous examination of their ability to deal with damage control, flooding, firefighting, nuclear, biological and chemical-defence contamination procedures, man-overboard drills and power failures. Muhafiz sailed from Ostend on 13 July. The vessel continued training from Lorient prior to sailing for Karachi in late September or early October.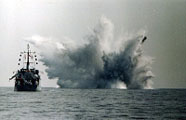 Éridan minehunters have consistently demonstrated exceptional seakeeping and high combat-proven performance. Since 1984, Éridan minehunters have performed more MCM missions than any other class. During the 1991 Gulf War, nine Éridans destroyed over 500 combat mines.
With 40 units in service, the Éridan class is the world's leading minehunter since the Second World War.
On-going enhancements
In response to evolving customer needs, DCN regularly improves the performance and capabilities of its Éridan offering. The latest examples feature state-of-the-art: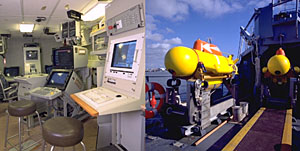 minehunting sonars
tactical and autopilot systems
navigation system
mine disposal system
minesweeping equipment
The operational capabilities of Éridan-class minehunters are further enhanced by the high-efficiency FDS3 remote MCM system using DolphinTM near-surface vehicles.
Hull design and construction
The hull is made of glass-reinforced plastic (GRP) using the most advanced composite production technologies. Advantages include:
high strength
low weight and cost
low-cost maintenance
Repeated shock tests have amply demonstrated that Éridan's completely non-magnetic hull can withstand powerful underwater explosions.
Éridan stats
Length, overall
51.50 m
Displacement, standard
562 tons
Max. speed (transit)
15 kts
Max. minehunting speed
7 kts
Range (at 12 kts with 10% fuel reserves)
3,200 nm
Complement
49