Alamgir (Gearing) Class
DESCRIPTION
These are former US GEARING-class destroyers of World War II construction. All have been refitted under the Fleet Rehabilitation And Modernization (FRAM) program, which included the addition of facilities for a Drone Anti-Submarine Helicopter (DASH), removal of a twin 5-in (127-mm) gun mount, installation of ASROC, and a general updating. Subsequently, a widened and strengthened flight deck was fitted to accommodate an Alouette III anti-submarine helicopter, but these facilities are not normally used.

These are flush-deck ships with a pronounced sheer toward the bow. When transferred, the main gun armament consisted of two 5-in (127-mm) dual-purpose gun mounts, one forward and the other aft; the after mount was later removed in several ships and replaced by a Phalanx Close-In Weapons System (CIWS) mount. An 8-barrel ASROC anti-submarine rocket launcher is fitted between the funnels and the torpedo tubes are ahead of the bridge on the forward part of the superstructure.

All of the ships were refitted at Karachi with the AN/SQS-23 sonar being upgraded to the solid-state, SQS-23D configuration. Several ships also received the Phalanx CIWS mount.

Beginning with the SHAH JAHAN, 3 twin launchers for the Harpoon anti-ship missile were fitted to increase the surface warfare effectiveness of these ships. All have had their WLR-1 Electronic Support Measures (ESM) system replaced with the Argo Phoenix II.
STATUS
The TARIQ and TAIMUR were purchased from the United States in 1977; they were both overhauled at the Puget Sound Navy Yard and were delivered to Pakistan in 1978. The TUGHRIL and TIPPU SULTAN were transferred in 1980, the ALAMGIR in 1982, and the SHAH JAHAN in 1983. SHAH JAHAN was destroyed as a missile target in the early 1990s. All are having their Phalanx and Harpoon weapon systems removed to update the TARIQ class ships now in service.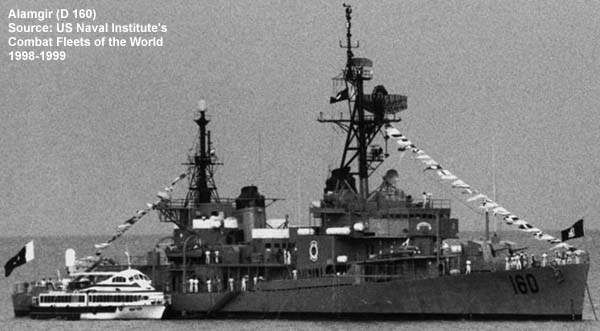 Ship List
Pennant
Name
Launched
Inducted in PN
D 160
Alamgir
1945
1982
D 166
Taimur
1945
1978
D 167
Tughril
1945
1980
CHARACTERISTICS

 Displacement        2,425 tons standard
                     3,500 tons full load
 Dimensions:
      length         382 ft 10 in (116.7 m) waterline
                     390 ft  5 in (119.0 m) overall
      beam            41 ft       ( 12.5 m)
      draft           14 ft  9 in (  4.5 m) hull
                      21 ft       (  6.4 m) over sonar
 Propulsion:         2 steam turbines (General Electric);
                       60,000 shp; 2 shafts
 Boilers:            4 (Babcock & Wilcox)
 Performance:
      speed          30 kts
      range          4,800 nm at 15 kts
 Manning             approx 280
 Combat Systems:
      helicopters    platform for 1 Alouette III ASW
      missiles       2 twin launchers for Harpoon SSM
      guns           4 5-in (127-mm)/38-cal Mk 38 DP (2 twin)
                     4 20-mm AA (2 twin)
                     1 20-mm Mk 15 Phalanx close-in (multi-barrel)
      ASW weapons    6 12.75-in (324-mm) torpedo tubes Mk 32 (2 triple) for Mk
                       46 torpedoes
                     1 8-cell Mk 116 ASROC launcher [16]
      radars         1 SPS-10 surface search
                     1 SPS-40 air search
                     1 Decca 1226 navigation
      sonars         1 SQS-23D hull-mounted active
                       medium-frequency
      EW             1 Argo Phoenix II intercept and jammer
                     2 Shield chaff/flare launchers (6-barrel)
			   Mk 6 Fanfare towed torpedo decoys
      fire control   Mk 37 GFCS with Mk 25 radar