Khalid Class (Agosta 90B)
The Agosta 90B, a direct derivative of the Agosta class in service with the French Navy amongst others, features significant improvements in acoustic discretion and detection. Agosta submarines are currently in service with three navies. The Agosta 90B incorporates improvements based on the experience gained by the French Navy. It includes new advances in endurance, acoustic discretion, propulsion and diving capability.
The first of three new Agosta 90B diesel-electric submarines, Khalid, arrived in Pakistan on Dec 16, 1999 and was commissioned in Pakistan Navy fleet on December 21. It was rolled out from the DCN Cherbourg shipyard in Normandy, France, during a low-key ceremony on 8 August. Setting-to-work activities by an advance crew party had started on 18 August.
Pakistan ordered the three Agosta 90Bs from DCN International, the commercial arm of state-owned Direction des Constructions Navales, in a $950 million deal signed in September 1994.
Displacing 1,570 tonnes surfaced, 1,760 tonnes submerged, the Agosta 90B retains the basic double-hull design of the original Agosta 70 - two of which are in Pakistani service - but introduces a new combat system plus selected platform, signature and manning improvements.
UDS International is supplying its SUBTICS integrated combat suite for the Agosta 90B, using Thomson-CSF DR 3000U ESM, six twin-screen, multi-function colour consoles for sonar analysis, command and control, and weapon management. The associated sonar suite includes bow, ranging and intercept arrays, a clip-on towed array and an active array. The use of a high-strength steel (HLES 80) has increased maximum diving depth to more than 320m compared to around 300m for existing Agosta boats. DCN says that the 90B will also have significantly lower radiated noise levels than earlier Agosta variants.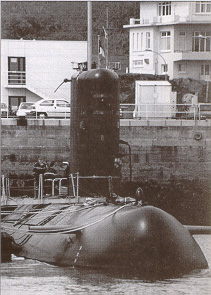 The new submarine will have a crew of 36 as opposed to 54 aboard the original Agosta 70 as increased automation has allowed for reductions in control room staffing and machinery watchkeeping. It is fitted with four torpedo tubes, with 16 spaces for a mixed weapon load of F17 Mod 2 heavyweight torpedoes and SM 39 Exocet anti-ship missiles.
Under a technology transfer agreement, the second Agosta 90B is being assembled in Karachi Naval Dockyard using material packages shipped from DCN Cherbourg. The third unit is to be built largely in Pakistan and will be the first to be fitted with MESMA (Module d'Energie Sous-Marine Autonome) air independent propulsion system. Combustion tests of a land-based MESMA prototype at DCN Indret are due to start in the next few weeks. The first production module will be shipped to Karachi in 2000. The full-scale test rig at Indret will be used to train Pakistani crews in the operation and maintenance of MESMA, and as a reference system to analyse the tests and trials of the first submarine installations. Some additional development activity is also planned, notably the use of diesel oil (in place of ethanol).
The fabrication and welding of a full-scale test section was successfully completed in September of 1998, a milestone which certified the Karachi yard's capabilities for submarine assembly and production. The first two submarines will be retrofitted with a MESMA plug section at their first major refits. Outputting about 200kW, MESMA will allow submerged endurance to be extended by a factor of between three and five at a speed of 4kt.
French naval shipbuilder DCN has installed the first air-independent propulsion (AIP) section for its Mesma AIP plant in the third Agosta 90B submarine that is under construction at Pakistan's naval shipyard in Karachi for Pakistan Navy.
The liquid oxygen (LOX) tank for this first Mesma-equipped boat was installed in a hull subsection during April 2000. The AIP 'plug' comprises two mudules, one for the LOX tank and one for the steam generator. The LOX tank was designed and build by Air Liquide, a member of the Mesma industrial team.
The steam generator module being designed and build by DCN, was scheduled for delivery in June 2000. In 2001, the complete AIP system will be put through its paces using an on-shore test facility. The AIP plug will then be integrated with the rest of the leading Mesma AIP submarine.
Pakistan has been given a license by DCN to offer commercial production of the submarines to potential customers.
DESIGN PRINCIPLES
The Agosta 90B is designed for the highest possible discretion when subject to the scrutiny of acoustic, optical, electromagnetic and heat sensors. The hydrodynamics of the hull, appendages and propeller have been carefully optimized. The propulsion machinery, diesel engines and auxiliaries are all suspended.
The design concept benefits from experience gained with the sea-proven Agosta particular improvements have been made both with higher perfromance and a better combat system.
PERFORMANCE AND PROPULSION
The Agosta 90B has a number of upgrades in this area improving on the previous Agosta submarine. These include:
new battery power for increased range
new materials (HLES 80 steel) for deeper diving capability
new suspension for quieter running
new MESMA air-independent propulsion (AIP) as an option for higher all-round performance.
BASIC PRINCIPLES

The MESMA AIP (Module Energie Sous-Marin Autonome) consists of a conventional steam loop heated by a primary circuit in which a combustion chamber burns a gaseous mixture of fuel (diesel oil or ethanol) and oxygen. Liquid oxygen is stored at low pressure in a cryogenic tank. Heat energy is converted into electrical energy using a conventional Rankine cycle comprising a steam generator, turbo-alternators and a condenser. Oxygen and fuel flow rates are determined directly by power demand. Combustion products are both generated and stored at 60 bar. They may be passed overboard directly or after storage without the need for a compressor. Power range is 150 to 600 kW.

In operation, liquid oxygen stored at -185C is cryogenically pumped into a vaporiser (similar to that used in nuclear plants) where it becomes gaseous. It is then brought into the combustion chamber and combined with ethanol, producing a thermal output of 700C and 60 bar pressure to heat the secondary circuit. A re-circulator recycles part of the cooled exhaust gas to regulate the temperature inside the primary circuit.

These gases are passed through a heat exchanger (producing steam at 500C and 18 bar pressure). Exhaust is expelled from the submarine at 60 bar pressure, allowing its discharge at any diving depth without the use of an auxiliary pump or other machinery. The secondary circuit is a conventional steam-driven Rankine cycle turbine that drives a high-speed turbo alternator to supply direct current to the submarine. Since MESMA uses rotating rather than reciprocating machinery, low-frequency sound generation is eliminated.

The LOX and ethanol are stored separately to satisfy stringent onboard safety and hazardous storage requirements. Control and containment standards owe much to the experience of DCN and Technicatome in the field of nuclear propulsion, particularly confined atmospheres.

Combustion tests of a full-scale land-based MESMA system are under way at DCN Indret near Nantes. These have bench-tested a full set of pilot modules to demonstrate various system aspects: oxygen storage in confined areas; ignition; steam production; electric power generation and acoustic discretion.

MESMA CONCEPT

The prime function of an air-independent propulsion (AIP) system is to generate electricity for a submerged submarine's onboard systems without snorkeling. Mesma, based on a closed Rankine Cycle engine, offers generating capacity to power a boat's main propulsion system, combat systems and auxiliaries, and even to recharge its storage batteries.

AIP systems extend submerged endurance (i.e. the intervals between surfacing and snorkelling to recharge batteries) by a factor of 3 to 5 times, and similarly improve submerged range. This is vital since surfacing or snorkelling to recharge storage batteries using diesel engines inevitably compromises discretion.

DESIGN PRINCIPLES

With several technologies theoretically capable of providing air-independent propulsion, DCN focused, from the very beginning, on the concept offering the best trade-off in terms of safety, performance and modularity.Mesma is designed around a Rankine-cycle steam turbine. The primary circuit features a combustion chamber burning a fuel-oxygen mixture.
MISSIONS
anti-surface ship warfare
anti-submarine warfare
intelligence gathering
special operations
very long range operations.
POWERFUL COMBAT SYSTEM
The fully-integrated Subtics combat system was developed by UDS International, a joint subsidiary of DCN International and Thomson-CSF. This system, for all types of anti-surface and anti-submarine missions, was chosen by Pakistan for its three Agosta 90Bs. It benefits from the experience gained by DCN in functional and physical integration through the Améthyste-class SSN and Le Triomphant-class SSBN programmes. The system allows operators to manage the use and operation of all platform resources for underwater and air/surface detection, tactical data processing, navigation, external communications and weapon launching.
SUBTICS

The Subtics submarine tactical integrated combat system offers long-range threat detection and weapon deployment. Benefiting from the French Navy's expertise in long-range sensors and anti-ship missiles, Subtics combines high performance and state-of-the-art capabilities. Subtics, which can be fitted during construction of refitting, enables any submarine to respond to present and future operational needs.

Design principles:

process signals acquired by both acoustic sensors (sonars) and non-acoustic sensors (optical, optronic, ESM, radar, communications) to detect, locate, track and identify all threats
determine your vessel's tactical situation (track association, fusion, synthesis, trajectory plotting and management)
supply information for tactical analysis, response management and decision-making while taking full account of your geographical and tactical environment
engage threats, while handling all weapons command & control functions (selection, launching and guidance).

The Agosta 90B combat system has been designated SUBTICS (SUBmarine Tactical Information and Command System) and is likely to include Thomson Sintra Activites Sous-Marines' new TSM 2253 planar flank array sonar as well as a towed array sonar. Through joint-venture company UDS International, DCN and Thomson-CSF are using their shared experience of recent French Navy submarine sonar, CWCS (specifically the TSM 2233 sonar suite, TITAC tactical data system and LAT-NG weapon-control system) in the development of the SUBTICS integrated submarine combat system. The first SUBTICS application will be on board the Pakistan Navy's three new Agosta 90B submarines, due for delivery between 1999 and 2002.

Adopting a distributed modular architecture, SUBTICS uses a dual-redundant Ethernet bus to integrate all acoustic and non-acoustic sensor inputs, weapons, navigation systems, and command and weapon control functions on six twin-screen MFCCs. Extensive use is being made of COTS hardware and software standards, notably high-speed RISC processors, the TCP/IP communications protocol, an X-Windows/Motif graphical user interface and the UNIX operating system.

Data processing algorithms are executed on PowerPC VME boards, while TMS320C30 processors on a speed ring network are used for signal processing. The MFCCs themselves are based on ruggedised PowerPC workstation hardware. Applications software is written in C, with graphics functions in C++.

The SUBTICS sonar subsystem includes a cylindrical array or bow conformal array, an active array, a ranging array, an intercept array, a flank array, a towed array, and an optional obstacle-avoidance array. Associated processing modules include specific detection, tracking, analysis and localisation functions, plus common module sets for contact motion analysis (automatic and interactive), classification and identification (audio and spectrum analysis plus interactive hypothesis generation and verification), and track management (interactive association and fusion processing plus best representative track sorting).

Above-water sensors integrated into Pakistan's SUBTICS suite comprise a Thomson-CSF DR 3000U ESM, SOPELEM search and attack periscopes and a navigation radar. A SAGEM integrated navigation system has been selected, including the Minicin Mod 3 inertial navigation unit, radio navigation unit, CGM5 gyro and LH92 log.

Command and weapon-control functions are divided into three module sets: situation elaboration (for track association and fusion, target motion analysis and track management); command and decision (threat evaluation, plus attack and escape-manoeuvre planning); and engagement and weapon launch (for simultaneous control of two wire-guided torpedoes plus either two anti-ship missiles or one non-wire-guided torpedo and one missile).

Pakistan's Agosta 90B boats will each have four torpedo tubes and 16 spaces for a mixed weapon load of F17 Mod 2 torpedo and Aerospatiale SM 39 Exocet submarine-launched anti-ship missiles.

The French Direction des Constructions Navales (DCN) has released details on the ESM system which is or will be equipping the French Navy's Amethyste class SSNs. The system will also be standard on DCN's export SSKs of the Agosta 90 B (offered to Pakistan) and Scorpene 2000 types.

The DR 3000U (French Navy designation ARUR 13) has been developed by Thomson-CSF, Division Radars et Contre-Mesures (RCM). The system's wide band receiver covers a frequency range encompassing UHF, L, S, C, X and S/Ku-bands. It has an elevation coverage from - 10 deg to +45 deg and cover 360 deg in azimuth.

The DR 3000U is said to have a sensitivity of up to -68 dBmi, and a dynamic range of up to 60 dB, allowing effective use against modern low-power radars. There is an optional high-precision direction finding targeting feature, while the DR 3000U is capable of operating in a high pulse density (up to 1 million pulses per sec) environment.

The system's identification library has the capacity to store up to 4000 radar models, connected to up to 192 platforms. The equipment employs a modular design, with separate ESM and ELINT modules. a smaller version antenna (not covering UHF and L-band) can be mounted ontop of the periscope.

The ARUR 13's manmachine interface features a high-definition colour display and multi-windowing software. According to DCN, this ensures user-friendliness while requiring only one ESM operator.
AGOSTA 90B WEAPONS CAPABILITY
four torpedo tubes
payload of 16 weapons or 28 mines
heavyweight torpedoes and anti-ship missiles.
multi-purpose torpedoes (F17 Mod.2)
Exocet SM 39 Sub-launced anti-ship missiles
Ship List
Pennant
Name
Launched - Completed
Status
S 137
Khalid
1997-1999
Active
S 138
199?-2002
Active
S 139
Saad
2000-2004
Under Construction
Agosta 90B stats
Dimensions
Length
76.20m
Beam
6.80m
Drought
5.40m
Displacement
Surface
1570 tons
Submerged
1760 tons
Endurance
68 days
Accomodaion
Officers
8
Sailors
43
Proplusion
Shafts
1
Diesel engines
2 x 850kW
Electric motors
2 x 2200kW
Performance
Speed submerged
>20kt
Diving depth
>300m
Tubes
4
Armament
Torpedoes
F-17Mod2
Missiles
SM39 Exocet
Total carried
16