No. 6 Squadron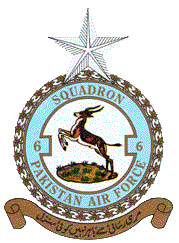 Whenever fighter squadrons are deployed at FOBs, this transport squadron delivers man and material at a very short notice. Besides undertaking domestic assignments, the squadron is often tasked to uplift service freight from other countries. An annual Hajj flight takes PAF personnel to Jeddah to enable them to perform their religious obligation. The squadron has also been flying the PAF War College on its educational tours abroad. The countries visited include Australia, China, Cyprus, Egypt, England, Germany, Malaysia, North Korea, Singapore, Sri Lanka, Syria and the US.
The squadron has always supported the Pakistan Army in several types of operations. The include paratrooping and para-drop to all drop zones of the country. When the difficult mountainous terrain of the northern area hinder the transportation of men and material of the Army, this squadron comes to their rescue by evacuating casualties and injured personnel from the field. The squadron conducts aerial drop missions at Paiju Drop Zone by flying through the most difficult valleys in the world. During the last decade, it has flown thirty-four such sorties, on average, each year. The Pakistan Navy also seeks help from the squadron whenever it needs it. One such exercise named Sea Spark was conducted in October 1989, during which C-130 aircraft provided logistic and tactical support. The squadron also helps PIA with domestic flights to the northern areas. Search and rescue mission were flown in July 1989, after a PIA Fokker was lost while flying from Gilgit to Chaklala. Special flights were also conducted in November 1994 to convey stranded PIA passengers abound for Gilgit.
The squadron has always been quick to react to emergencies, both inside and outside of Pakistan. The squadron is ever ready to extend its service in times of emergency, such as after floods and earthquakes. After the Gulf War, a C-130 carrying relief goods was sent to Kuwait in March 1991. Similarly, the squadron flew a large number of flood and earthquake relief missinos to friendly foreign countries.
A large mob of Afghan nationals attacked the Pakistan Embassy in Kabul in September 1995. The Embassy was destroyed and one of the staff members dies while the rest were seriously injured. On 7 September 1995, a C-130 aircraft with Group Captain Nayyar as Mission Commander was sent to Kabul for the recovery and evaluation of the embassy staff. The aircraft landed under very hostile conditions and the crew still managed to evacuate the personnel within half an hour. During this operation, another C-130 aircraft kept flying over Kabul in order to relay the prevailing situation to the Air Headquarters. Many such delicate missions have been flown to different parts of Afghanistan under very trying conditions to rescue, negotiate, and seek peace.
During May 1998, prior to the nuclear tests conducted by Pakistan, the squadron carried 1,266,615 lbs load in seventy one sorties, which is an acheivement that is remembered by its personnel with pride.