No. 5 Squadron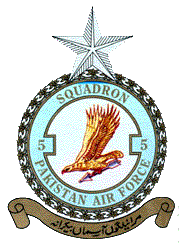 The No. 5 Tactical Attack and Reconnaissance Squadron is the second oldest fighter squadron in the PAF. It is one of the few squadrons that conducts operational mission even during peacetime. It is responsible for trans-frontier photo reconnaissance the year round. The pilots of this illustrious squadron use special recconnaissance pods to photograph the entire eastern border from the Himalayas to the Arabian Sea. The entire squadron is divided into several parts, and is conducted in close coordination with friendly radars and escorts. The results of reconnaissance flights are disseminated among the Armed Services of Pakistan.
The squadron uses four different types of Mirage aircraft. This alone makes it a unique squadron, as it has to face multiple maintenance and operational problems. Despite this, the squadron won the Inter-Squadron Maintenance Efficiency Trophy in 1991, 1992 and 1995. During ISAC-96, the squadron was placed first among all the conventional weapon systems and was judged to be fourth over all.
The squadron completed fifty years on existance in 1997. An impressive ceremony was arranged on 25 October 1997, to celebrate this event, and a large number of serving and retired PAF officers were invited to PAF Base Rafiqui. The squadron arranged a historical presentation for the guests during the event, which lasted for two days.
The squadron participated actively in all PAF operational exercises. The specialist role of photo reconnaissance keeps the squadron's operations dispersed to multiple locations around the year. Monthly ADA duties and different training cycles further increase the operational responsibilities of this squadron. During peacetime, the squadron fulfilled another kind of assignment by actively participating in the last election and census duties. The No. 5 squadron Falcons take their name from the squadron crest painted on their mirages.
A historical gallery has been set up in the squadron headquarters to preserve the past and its glories. The main feature of the gallery include photographs of the pioneers, different trophies won by the squadron, crests, and other photographs of historical significance.