No. 25 Squadron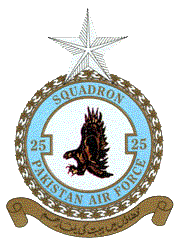 On 27 August 1986, 25 Squadron was permanently shifted to PAF Base Mianwali to be merged into 14 OCU as the later was nominated to become the third F-16 squadron of the PAF. It was tasked to conduct operational conversion of the graduates of 1 FCU on F-6/FT-6 aircraft. On 17 October 1989, the squadron moved to Sargodha as the re-carpeting of the runway at Mianwali was in progress. The squadron moved back to Mianwali on 30 March 1990.
The 31 OCU was the last F-6 conversion course to be graduated by 25 OCU, after which the squadron's assets were withdrawn and allotted to 17 and 23 Squadrons. The last F-6 of the 25 Squadron took-off for Samungli on 9 December 1995.
The squadron was relocated at PAF Base Minhas on 25 January 1996. It formed a staging flight for ROSE modified Mirage aircraft. The squadron completed trials on all such aircraft in 1998. These ROSE-I modified aircraft now form part of 7 Squadron and CCS Mirage Squadron.
The squadron was re-designated as 25 TA Squadron and assigned the specialist night attack role with effect from March 1997. On 29 September 1998, the first two Mirage-V EF (ROSE-II) aircraft were ferried to Minhas from France. The squadron will become a full-fledged operational squadron as the other ROSE-II aircraft arive in Pakistan.