No. 23 Squadron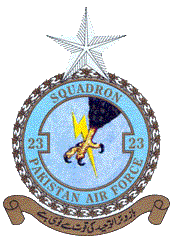 In January 1988, 23 squadron participated in air-to-air banner firing. It provided air defence of the western borders from PAF Base Samungli, during the Afghan conflict. A detachment of the squadron consisting of twelve pilots and ten aircraft, commenced air defence duties for Kahuta, at PAF Base Chaklala, with effect from 4 April 1988. In March 1989, the squadron participated in the Fire Power Demonstration held at the Sonmiani Range. The squadron was awarded Inter-Squadron Flight Safety Trophy for the year 1988. The squadron moved from Chander for participation in Exercise High Mark-89/Zarb-e-Momin. The activation for this exercise lasted for a month, from 22 November to 23 December 1989. A detachment of the squadron was attached to PAF Base Sargodha for flying duties between 19 February to March 1990. On 14 March 1990, the squadron moved to PAF Base Masroor for air-to-air firing and DACT Camp.
Four officers and five aircraft went to PAF Base Peshawar to take part in the fly-past ceremony on 23 March 1991. The squadron shifted from its old underground building to its new premises in the Flying Wing Headquarters in the second quarter of 1991. In September 1991, the squadron moved to Mirpur Khas to participate in an air defence exercise. In November 1991, the squadron moved to PAF Base Farid, where it carried out another air defence exercise. The squadron had the honour of winning Sarfraz Rafiqui Flight Safety Trophy twice in a row for the years 1990 and 1991.
During exercise High Mark-93, the squadron was deployed at PAF Base Risalewala. During 1995, it took part in Exercise Saffron Bandit as well as High Mark-95. In February 1997, the squadron moved to PAF Shahbaz for DACT with F-16s. The Governer of Balochistan visited the squadron on 12 August 1997.
In May 1998, the squadron was deployed at PAF Base Sukkur. The activiation of Sukkur continued for about a week, ending soon after Pakistan successfully conducted its nuclear tests. The squadron, under the command of Wing CommanderG.M. Abbasi, and supported by Wing Commander Irfan Idrees, Squadron Leader Khan Maqbool, Flight Lieutenants Anwar Karim, S. Atta, Waqas Mohsin, Zeeshan Saeed, Aamir Shaukat, Ali Asher, Nadeem Afzal, and Nasir Jamal, had the honour of taking part in this operational commitment.