No. 22 Squadron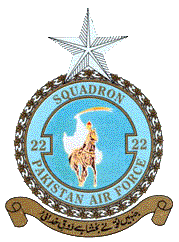 Ever since the induction of the Mirage aircraft into the PAF in 1967, 9 Squadron had been conducting operational conversion courses on them. After the induction of F-16, 9 Squadron was re-equipped with F-16s and its role was changed from an OCU to a multi role squadron. In order to fill te gap thus created, 22 Squadron was raised in 1985 to take over the role of operation conversion of pilots on the Mirage aircraft.
The Mirage Operational Conversion Course consists of forty-six sorties that are equivalent to about forty hours of flying, per student. The duration of the course has varied from four to eleven months, depending upon the availability of dual-seat aircraft and other commitments of the squadron. However, with the increase of dual-seat aircraft in the squadron, the course duration was reduced to four to five months only. The OCC begins with a comprehensive ATT spread over a period of one month, followed by the flying phase. Apart from the typical syllabus of an OCC, the squadron lays special emphasis on air-to-ground attack, including bombing, followed by level as well as pop up strikes. From 1988 to 1998, the squadron was able to conduxt sixteen OCCs, graduating 158 fighter pilots.
During last eleven years, the squadron participated in numerous operational exercises. Some of them were conducted on coordination with the Pakistan Navy. The squadron participated in the Armament Competition and Fire Power Demonstration in 1989, as well as High Mark-89 and 93. Besides, the squadron flew in exercise Inspired Alert in 1994, 1995 and 1997. During this series of exercises, the squadron's pilots flew DACT missions against the F-18 aircraft of the US Navy. In 1998, the squadron's pilots were detailed to ferry ex-French Mirage aircraft from France to Pakistan.
In January 1993, the squadron was equipped with ex-Australian Mirages, and its own aircraft were handed over to 7 TA Squadron. In the same year, the ACES team awarded an 'A+' grade to the squadron in armament loading exercises. Despite being a training unit, the squadron has an impressive flight safety record.