No. 1 Fighter Conversion Unit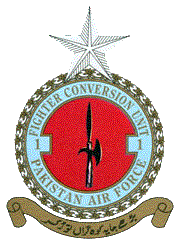 The unit was established in 1975 at Masroor Airbase near Karachi but quickly moved to Mianwali, where it remains to the day, to train newly graduated pilots from the Airforce Academy on the aircraft acquired from China. Though initially it acted as a fighter conversion platform for F-6 aircraft, it continued to perform this role even after the induction of F-7s and A-5s.
The unit has the primary peacetime role of training newly commissioned officers, (with limited experience on the slower T-37s), to fly supersonic jets. No. 1 Fighter Conversion Unit (FCU) administers intensive and challenging coures each year. Maintaining its tradition of flight safety, the Masroor Hussain Flight Safety Trophy during 1992, 1995 and 1998.
In 1987, the unit was assigned the wartime role of air defence. This change of role not only necessitated a change in the war plans but also inspired flying instructors to refresh their skills as interceptor pilots. During ISAC-96, the FT-5 aircraft fired an AIM-9P, which connected with the target successfully, demostrating the capabilities of this old hero of the Korean War. In addition, the unit regularly took part in major command level operational exercises. On 23 April 1998, during an air-to-air missile firing, the FT-5 successfully launched an AIM-9P on target, demonstrating that the system is fully capable of living up to the standards of a fighter aircraft in any future conflict.
1 FCU has conducted forty-five Fighter Conversion Courses since it was established. During the last 10 years, 450 students have graduated from this prestigious institution. The average induction per course was twenty-six, the attrition rate approximately 12 per cent and the average number of graduates was twenty-four.