No. 18 Operational Conversion Unit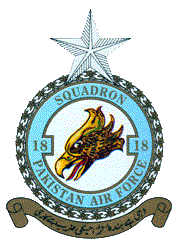 No 18 OCU was formed in Mauripur, near Karachi on 21 February 1958 and was initially equipped with F-86 Sabres. Under the command of Squadron Leader Nazir Latif, the squadron saw its first action in early 1965. The unit's aircraft were again called upon in 1971, shooting four Indian fighters and damaging further two in the Kashmir Valley. The squadron was deactivated in 1980 with the phase-out of the Sabre, but was reactivated in 1981 with the induction of the Mirage III. By 1986 the unit was affiliated as a 'brother squadron' of the Royal Jordanian AF's No 9 Squadron, equipped with F-5E Tigers. A ceremony took place at the Prince Hassan Air Base in Jordan on 23 March 1987 where the Officer Commanding No 18 Squadron was presented with the unit colour to its Jordanian affiliate. The return ceremony took place in Pakistan on 7 October 1987 when the RJAF unit brought its own colour and presented it to No 18 Squadron.
In 1989, after a brief stay at Kamra, No. 18 Squadron moved back to Rafiqui. The squadron was re-equipped with F-7P aircraft, and fifteen pilots were posted to the squadron. Later, during the same year, the squadron took part in exercise High Mark. Many dignitaries, including the Bangaldesh Air Chief and COAS visited the squadron during the period 1990 to 1991. In 1993, the squadron's pilots visited Jordan to establish stronger ties with RJAF, a gesture which was reciprocated by a visit from pilots of 9 Squadron of the RJAF in 1994.
In 1994-95, the squadron participated in different exercises like Saffron Bandit, Twilight, Sky Guard-III, and High Mark-95 and performed extremely well.
The year 1997 brought new laurels to the squadron when it won the 'Air Superiority' and 'Top Gun' trophies. It was the first F-7P squadron to have won the highest honour of the PAF.
Buster-I was the last exercise in which the squadron participated from Rafiqui. The end of the year 1998 witnessed relocation of the squadron to PAF base Mianwali. The squadron became an Operational Conversion Unit by the start of year 1999.