No. 15 Squadron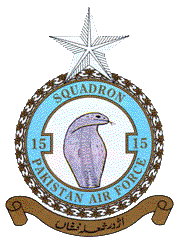 The Cobras continued to defend the western borders and faced Afghan intruders boldly until the end of the war. They flew innumerable scrambles as well as CAP missions throughout the conflict. The squadron got relocated to Minhas in June 1989. In July 1993, the squadron bade farewell to its aging F-6 aircraft and was re-equipped with the Chinese F-7P fighter interceptor aircraft. In the same year, in August, Skardu was activated and safe operations were conducted despite inclement weather and problems associated with high altitude operations.
The squadron continued to participate actively in the PAF, like DACT Camps, High Mark exercises and Saffron Bandit. The squadron flew the maximum number of sorties in High Mark-95. It created a new record in the PAF's history by scoring an 'A' in the air-to-air firing camp held at Masroor in January 1996. The aircrew displayed their professional skills during the Pakistan Day Fly-Past in 23 March 1997 and won the Best Formation Trophy.
As a consequence of the PAF force re-structuring prgramme, the squadron was number plated on 31 August 1997 and the F-7P aircraft on its inventory were distributed among other F-7 operating units. The unit will re-equip with the ex-French Mirage aircraft and is scheduled to be reformed at its new location at Rafiqui. The squadron will then take up the role of a tactical attack squadron.