No. 14 Squadron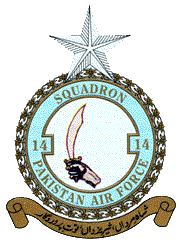 This squadron had been an OCU for the F-6 aircraft until September 1986, when it was re-equipped with the F-16 multi-role aircraft and shifted to Kamra. The squadron's stay at Kamra (later renamed Minhas) proved to be extremely fruitful. During the long Afghan War, the squadron flew extensive combat air patrol missions ove the western borders. The ever vigilant presence of the Tail Choppers on the border earned them five kills.
On 16 April 1987, Squadron Leader Badar Islam, with Squadron Leader Khalid Pervez Marwat as his No. 2, shot down an Afghan Su-22 with an AIM-9L missile. Squadron Leader Saif-ur-Rehman was controlling the formation. On the night of 4 August 1988, an Su-25 was shot down and its Russian pilot, who ejected, was taken prisoner. Squadron Leader Athar Bukhari was the pilot of the F-16 while Squadron Leader Taufiq Raja controlled this night interception.
On 12 September 1988, Flight Leiutenant Khalid shot down two Mig-23 aircraft; Squadron Leader Irfan-ul-Haq was the controller. Again on 3 November 1988, Flight Leiutenant Khalid Mehmood shot down an Afghan Su-22. Squadron Leader Saif-ur-Rehman controlled this formation.
On 9 September 1993, a nine-ship F-16 formation made a farewell fly-past over Minhas to say goodbye before departing to for Sargodha. During the month that followed, the squadron was re-equipped with the Chinese F-7P aircraft, under the command of Wing Commander Abbas Petiwala.
On 1 November 1998, the Tail Choppers celebrated their fiftieth year. Air Vice Marshal (Rtd.) M. Khyber Khan, the first Squadron Commander of the 14 Squadron, reviewed the Golden Jubilee Celebration parade. The Squadron Commander, Wing Commander Kahleel Ahmed, commanded the parade while Flying Officer Faisal Gul was the colour bearer. The parade was dovetailed with the fly-past of the 'Missing Man Formation'. This fly-past, led by Wing Commander Arshad Mehmood, was meant to pay tribute to the martyrs of the squadron.