No. 11 Squadron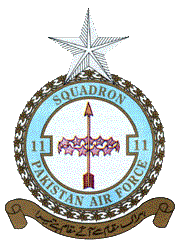 After playing a significant role in the Afghan War, this squadron maintained its legendary traditions during numerous operational exercises in the last decade. It made a landmark contribution to the history of the PAF by winning the 'Top Gun' trophy of ACES, three years in a row, in 1993, 1994, and 1995.
While deployed at Masroor in February 1990, the squadron carried out GB trials at Sonmiani air-to-ground range and also participated in exercise Hit Hard-XII. In July 1991, the squadron participated in a DACT Camp against 5, 18 and 20 Squadrons. There was an imminent threat to our nuclear installations in early 1992, and the squadron had to fly the national contingency 'Thunderbolt' for a period from 19 February 1992 onwards. During the last decade, the squadron remained very busy during all the operational, air defence and multi-national exercises, as well as Saffron Bandit, DACT Camps, Inspired Alert etc. Besides, the squadron is also an operational conversion unit for the F-16 aircraft. Therefore, the squadron is responsible for conducting these courses. The squadron achieveda a unique distinction when all of its instructors gathered on-type flying experience in excess of 1,000 hours.
During High Mark-93, the squadron achieved 100 per cent of the allotted task; the squadron earned 225 kills out of all the shots claimed. ATLIS attack had a 100 per cent success rate. The squadron secured third position in the ISAC-96, held at Masroor.
After the nuclear tests by India in May 1998, the tension in the borders heightened. The PAF was out on higher alert and the squadron was moved to its wartime location on 24 May 1998. In spite of the very hot weather and the degraded facilities at the satellite, the squadron measured up to the task, and successfully and satisfactorily performed the day and night ADA duties till Pakistan's oen tests were comleted on 28 May 1998.
The Inspectorate team visited the squadron on 28 October 1991 and termed the inspection as exceptional. The ACES team visited the squadron on 8 February 1993 and the squadron won three out of four trophies, including 'Top Gun' for the year 1993. During ORI of 1995, the squadron won the ACES trophy for the second consecutive time, winning three out of four trophies again. In 1996, the squadron achieved a landmark in the history of the PAF by retaining the coveted ACES trophy for the third consectutive time. During ACES inspection in 1997, the squadron secured the second position, staying very close to the 'Top Gun' squadron for the year 1998.
The squadron had the honor of recieving a number of important visitors, including the Prime Ministers, Chairman Joint Chiefs if Staff, the Defence Ministers and the Chief of Air Staff.